The Architecture of William Newton
Saturday 20th September 2014
Blagdon Hall
A day coach trip featuring several of the architect's buildings in Newcastle upon Tyne and environs; guided by Dr Richard Pears.
Ticket price £20.00 excluding lunch but with refreshments.
Please see below for a biography of the architect.
We will meet at 9.30am at Old Assembly Rooms, Westgate Road, NE1 5XU to view the exterior of the Assembly Rooms and exterior of Newton's own house in Charlotte Square. On to St Ann's Church, City Road, with mid-morning refreshments. At Wallsend Hall we will have a tour of the building and opportunity for lunch in the tea room or eat your own lunch. Then to Benton Conservative Club, Hoylake Avenue, to view the exterior. At Blagdon Hall Viscount Ridley will introduce us to the house. A Tour of house, viewing of architectural drawings and visit to gardens will follow.
The coach will get us back to Newcastle Station at approximately 5.00pm
Download the booking form as a PDF.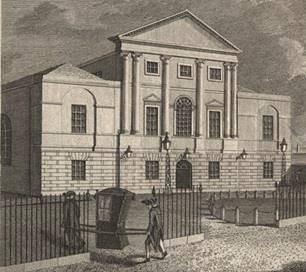 The Eminent Architect: William Newton of Newcastle (1730-98)
.
William Newton began his career as a joiner, constructing classical buildings designed by the Palladian architect Daniel Garrett. This experience laid the foundations for his transition to a professional status, designing over forty country houses, civic buildings and churches, many of which survive to this day. Frequently described as 'the eminent architect' during his lifetime, examples of his work include the Howick Hall, Backworth Hall and Castle Eden.
This study day will look at the range of Newton's buildings, including the Newcastle Assembly Rooms (picture left from John Brand, Newcastle upon Tyne, 1789), St Ann's Church, town houses at Charlotte Square, and country houses close to Newcastle that can be attributed to him based upon stylistic features and links to his known patrons.
We are particularly fortunate that Viscount Ridley has agreed to host a visit of our group to Blagdon Hall, where Newton was the highest paid craftsman in the construction of the south range of the house added 1752-7, a building that influenced Newton's own designs for over forty years. Blagdon Hall is a house of several periods, including an east range of c.1720 with Vanbrughian features, the Palladian south range, and a dining room and stables designed by the leading neo-classical architect James Wyatt, a library to the design of Robert Lutyens and gardens remodelled in the 1930s by Gertrude Jekyll and Sir Edwin Lutyens