PREVIEW VISIT TO THE BLACK GATE
Thursday, 18th September 2014
Black Gate, Castle Garth, Newcastle upon Tyne, NE1 1RQ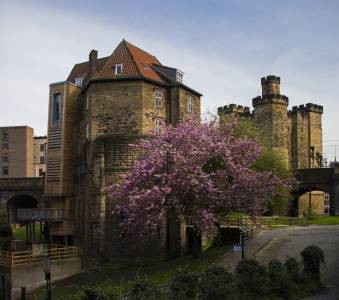 Guided by Kate Sussams, Project Manager, Old Newcastle Project.
Tickets for the visit with wine, juices and bar snacks £11.00. Book early as numbers restricted.
PROGRAMME: Meet at 6.30pm, under the arch of the Black Gate; 8.30pm depart
The Black Gate has benefited from a significant investment in the last year which will enable visitors to have access to this amazing building as well as to learn more about the stories of its many inhabitants. Together with the Castle Keep, the Black Gate will have new permanent displays and both buildings will run as one visitor attraction from early 2015.
Funded largely through the Heritage Lottery Fund, staff from the Old Newcastle Project have been working closely with Newcastle City Council and the Society of Antiquaries of Newcastle upon Tyne to refit the interior of the Black Gate with new visitor facilities (complete with brand new lift to enable full access) as well as new exciting exhibitions showcasing the long and eventful life of Newcastle Castle.
The visit will include: a tour round the interior of the Black Gate, learning more about what interpretation is being developed for the new displays, a chance to go up in the new lift and hearing more about the plans for opening to the public in 2015.
Download the booking form as a PDF.