Haydon Bridge: An Architectural Walking Tour
Saturday 2nd September 2023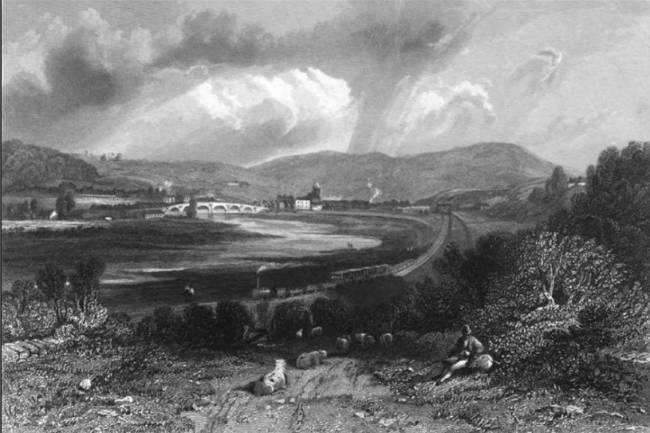 Both costs include donations to the churches visited.
Morning walk commencing at the railway station at 11.00 am.
£4.00 with no refreshments.
Afternoon walk commencing at the railway station at 2.00 pm.
£10.00 which includes tea, with scones or cake, at the end of the walk.
The first record of a bridge downhill from the old settlement of Haydon was early in the 14th century. Yet, at this midway point between Hexham and Haltwhistle along the ancient east-west route, there may have been long before that a way across the South Tyne. With a hinterland of farming and mining the crossing became the focus for social and commercial development and the village spread on both sides of the river. The arrival of the railway gave more efficient links for trading and travelling to places along the Newcastle to Carlisle line. Then came the internal combustion engine and traffic which cut the town in two. By 1970 the old bridge was obsolete for all but pedestrian traffic. The new bridge allowed faster passage and Haydon Bridge became for a couple of generations less a place to stop than one to get through. By contrast the by-pass, opened in 2009, has been a wonder, making the village a more comfortable and attractive place to live and work.
Limited numbers, booking on a first-come first-served basis.
Haydon Bridge is a typical Northumbrian village. It is not laden with architectural wonders, but it has many characterful buildings, a fine bridge (of course) or three, a good set of churches and chapels, unspoilt streetscapes, and opportunities provided by the riverside setting. This afternoon architectural walk, sampling all of these, was led by Hugh Dixon, as a visitor, and the Very Rev. Michael Sadgrove, as a resident.
There was a rather more vigorous morning option of making the half-hour climb to the old church. The place is fascinating, the views lovely but the way is steep.
Our initial plan was that, as tribute to early antiquarian group visits, and in the light of our own times, the programme would relate to train times from Carlisle and Newcastle. While there is limited parking in the village, the use of trains or buses was encouraged. Members were invited to bring picnics or make their own luncheon arrangements in the village. Our afternoon refreshments were served in Oddfellows Coffee shop. Full details of the visit were sent out to those who book, a few days before the event.
Revised flyer due to rail strike, including booking form as circulated to members.