Day Coach trip to Ad Gefrin Anglo-Saxon Museum and Distillery, Wooler
Saturday 23rd September 2023
Joint visit with Newcastle Antiquaries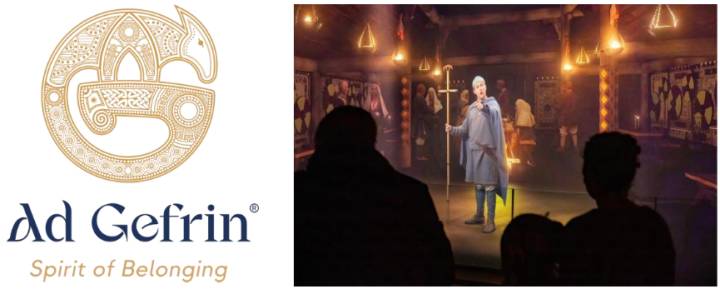 Ad Gefrin is the exciting new museum and whisky distillery in Wooler, Northumberland. The building, designed by the architect Richard Elphick and inspired by the Anglo-Saxon royal palace at Yeavering, houses an audio-visual recreation of the great hall of the kings and queens of Northumbria, alongside museum collections featuring artefacts from the Golden Age of Anglo-Saxon Northumbria. We were privileged to have Richard Elphick give us a talk on the development of the building on our arrival at Ad Gefrin.
The distillery, opened in March, began the three year process of producing Northumbrian whisky. A blend named Tácnbora that emulates the intended taste is currently available. There was the option of a 90 minute guided tour of the distillery showing the production process and including a tasting session. Lunch (own cost) was available in the on-site bistro, or in Wooler, or it was possible to bring a packed lunch.
For anyone not touring the Distillery, it was a short walk into the historic town of Wooler, and after Ad Gefrin we made a short coach trip to Milfield to see the Maelmin reconstruction of a prehistoric henge and Dark Age house.

DEPARTURE: The coach departed Bewick Street, Newcastle, at 9.15am, with pick ups at Gosforth High Street and Stannington Village Hall.
RETURN: Depart Milfield around 5.00pm, with drop offs at Stannington and Gosforth, arriving back at Bewick Street, Newcastle, approximately 6.15pm.
Booking form and detailed itinerary as circulated to members (PDF).