Tour of The Common Room
(formerly The Mining Institute), Westgate Road, Newcastle upon Tyne
Wednesday 15 March, 10.00 and 11.00 am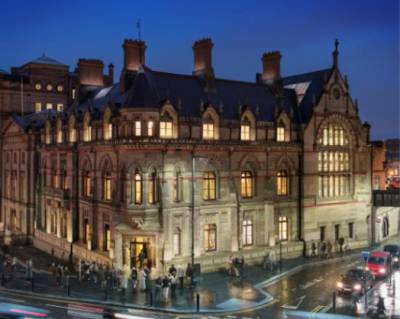 Jointly with the Society of Antiquaries of Newcastle upon Tyne, we were offered the chance to tour the Common Room, see the current Robert Stephenson exhibition, and explore archive material.
There wwew two tours on 15 March, at 10.00 am and 11.00 am. We were taken round the building, newly refurbished following a £9m+ restoration project largely thanks to the National Lottery Heritage Fund. There was an opportunity to see the bicentenary exhibition about Robert Stephenson and Co., and librarian Jennifer Hillyard also showed us a selection of documents from the archive.
The Common Room holds one of the largest, most comprehensive, public collections on mining engineering in the world. It includes many early scientific and technical reports relating to the development of the coal industry and associated mechanical engineering, especially the early work on safety in mines. The collection has been described as "one of the two most important collections in the world for the study of the birth of the Industrial Revolution". As well as printed books, it includes manuscript notebooks, underground plans, photographs and more.
The new charity aims to use its unique heritage to inspire the next generation of innovators and engineers. Through education and engagement activities, it will support the region's future economic growth and provide a range of public spaces for innovation, collaboration, events, lectures, weddings and more.