Behind the Scenes tour at Discovery Museum
Saturday 11th February 2023, 11.30 am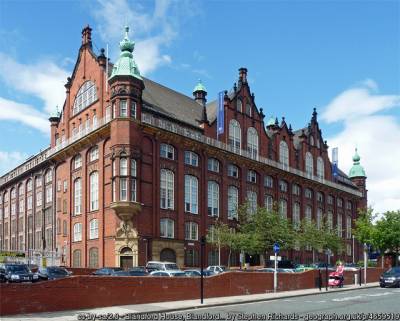 As our first outing in 2023, we arranged a Behind the Scenes tour of Newcastle's Discovery Museum. We were taken over the museum, including the magnificent Great Hall on the top floor, and the original architectural drawings were available for us to study. We also had a chance to look in the stores (which actually belong to the Great North Museum (Hancock).
Discovery Museum is housed in the old Co-operative Wholesale Society building, Blandford House, Blandford Square, NE1 4JA. It was designed by Oliver, Leeson and Wood, and opened in 1899. Pevsner called it a "a striking manifestation of commercial success". It became a museum in 1978 and was re-launched as Discovery Museum in 1993. The 1930s alterations to the entrance hall and directors' suite were in Art Deco style with marble stairs, a stained-glass wheatsheaf in the landing window, walnut panelling, and glass-and-chrome light fittings. The gents' toilets are apparently "the most amazing in the city, with blue tiles glowing like lapis lazuli". It was refurbished again in 2004, with the long central courtyard glazed over so that the Turbinia could be displayed.
This tour was fully booked, and a second tour was held at 11.30 am on 27th May 2023.