John Ross of Darlington
Wednesday 12th October 2022 at 7.30 pm
Dr Joan K. F. Heggie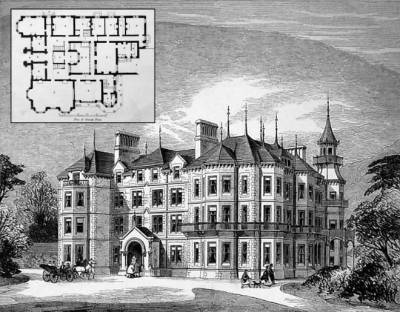 Proposed Hotel, Keswick. Architect John Ross of Darlington.
© The Builder, Dec. 26, 1863, p. 913
Based in Darlington in County Durham, John Ross FRIBA (1836-1895) left an architectural legacy stretching across the north of England, from Saltburn by the Sea to Westmorland and Cumberland. Less renowned than his counterparts Alfred Waterhouse and G. G. Hoskins, this lecture showed that Ross made a significant contribution at a time of fundamental change for the profession. It provided an overview of his life and career, and the variety of commissions he worked on during his lifetime, both alone and in partnership with others. It also demonstrated the importance of social and professional networks to the professional life of an architect.
Dr Joan Heggie is an historian, until recently based at Teesside University in Middlesbrough, but now freelance. She is currently the Principal Investigator on a British Academy funded project "Women as capital lenders in nineteenth-century Yorkshire: Evidence from the Registers of Deeds". She was also the Project Manager of The British Steel Archive Project (2008-2011). This paper is the culmination of many years of research which she hopes will provide the basis for a publication or interactive output demonstrating the scope and variety of Ross's work.
This, our first in person lecture following the pandemic, was a success but attracted fewer members than our meetings did in the past. We regret that Zooming and recording were not practical on this occasion.