2016 AGM
Saturday 21st May 2016
Auckland Castle, Bishop Auckland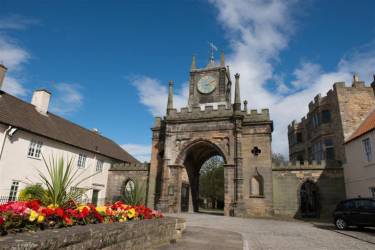 Auckland Castle was, from 1183, the medieval palace of the Prince Bishops of Durham, the men who, in effect, represented the monarch in this part of the country. In later years, from 1832 to 2011, the Castle was the official residence of the Bishop of Durham.
Auckland Castle is also home to a remarkable set of pictures by Spanish painter Francisco de Zurbarán. The power of the pictures and their historic role was the catalyst for the creation of The Auckland Castle Trust, the project established to breathe new life into the Castle and develop it into a world class visitor attraction.
Our visit started with a tour of the castle. After the AGM, archaeologist Harry Beamish (a regular contributor to our society's events) presented a talk and tour of the grounds. He reviewed the latest thinking on the history of the walled garden and parkland and the plans for restoration.