A Wallsend Walk:
Commencing at St Peter's Church
Tuesday 11th June 2013, 6.30 - 8.00 pm
guided by Ken Hutchinson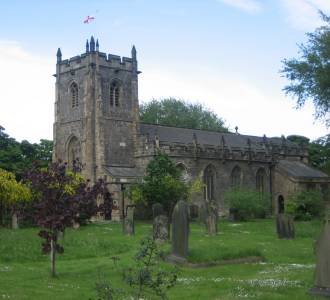 This is a free event but please pay for your own refreshments on the day.
Ken, our guide, is a member of the Society, recently retired North Tyneside conservation planner and author of Wallsend Through Time and Whitley Bay and Seaton Sluice Through Time. He is a Newcastle City Guide as well as a Yellow Badge Guide at Segedunum.
St Peter's was built in 1807-09 to replace, on a new site, the medieval church of Holy Cross. The consolidated remains of Holy Cross are located across the Wallsend Burn valley from St Peter's. In 1892 the church was 'Gothicised' by W.S.Hicks; the interior was gutted, a new roof and windows installed and the spire removed. The chief architectural glory of St Peter's is its collection of twentieth-century Irish glass.
The walk will be along the High Street to the Town Hall. Then up to Wallsend Green, the Park and back down Station Road to St Luke's (not inside). We will then walk south to Segedunum and back to Wallsend Metro Station to conclude the walk at approximately 8.00pm. The total length of the walk will be 2.5 miles; those not wanting to walk it all could share a car to move between the highlights.
At the end of the walk people parked near St Peter's Church can catch the Metro to Hadrian Road, or a bus along the High Street, this will save approximately 0.75 miles of walking. Those wishing to visit a pub will have a short walk back to the Anson Pub on Station Road / High Street.