A Benwell Walk
centred on St James' Church
Tuesday 14th June 2011
St James' Heritage and Environment Group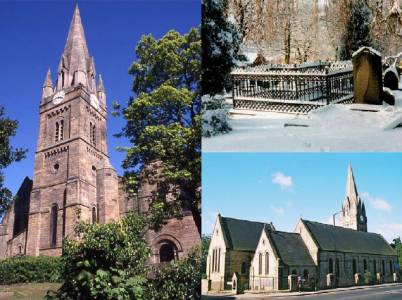 St James' Church opened for worship in 1833 as a Chapel of Ease in St John's parish, built for the convenience of remote parishioners. The church of St John is in the centre of Newcastle, some three miles from the western reaches of the parish. Benwell at that time was a largely rural area of farms, big mansions and private estates. It was not until 1904 that it was absorbed into the city. The Church has survived successive waves of clearance and re-building in the area and is currently working with other local organisations towards creating a new 'Centre for Heritage and Culture' to explore and celebrate the history and culture of the west end.
The land for the new church and churchyard was donated by John Buddle, the famous mining engineer and colliery manager. Buddle is actually buried in St James' churchyard in a vault designed by John Dobson. The church itself was designed by Dobson and built by Richard Grainger. Grainger also lies in the churchyard.
The Church is located on Benwell Lane, at the junction with Condercum Road and Atkinson Road (postcode: NE15 6RR). The number 1 and 31 bus routes run past the church. For full details see the Nexus website. Car parking is available near to the Lidl supermarket and the Customer Service Centre opposite the Church.
Following the walk refreshments were available in the church.