NAHS SUMMER TRIP
The Eastern Counties of Northern Ireland
County Down and South Belfast
Tuesday 2nd - Friday 5th July 2019
Organisers: Hugh Dixon and Ian Wells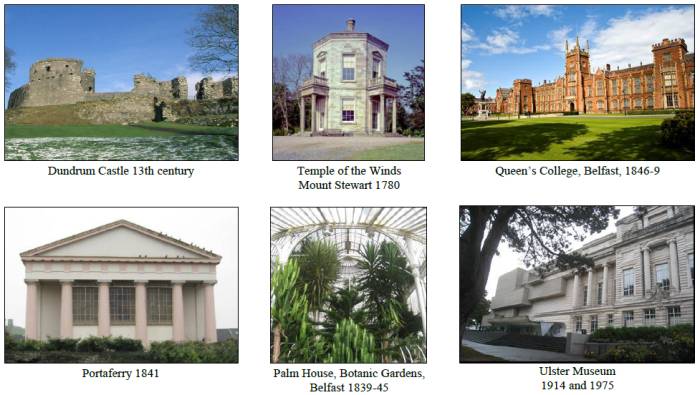 This year's visit is to coastal County Down, an area not reached in the Society's previous epic Ulster tour.
Buildings of the area reflect a history of Irish tradition resilient to centuries of settlement and fashion change. The tour will be guided by our own Hugh Dixon (who spent many years in Northern Ireland as an Architectural Historian, is author of An Introduction to Ulster Architecture and is a member of the Ulster Architectural Heritage Society) and other Ulster Architectural Historians. We will sample the great variety of churches, castles, defensive ports of the Lecale and the Ards, and 'great houses' - the enigmatic Castle Ward, neo-classical Mount Stewart (the other Londonderry house) and a linen Baron's Italianate at Ballywalter.
Our hotel will be Ballydugan Mill (1792), an award-winning conversion. This is near Downpatrick, the county town with an ancient cathedral (gothic and gothick), fine public and commercial buildings. The visit will conclude with a tale of two libraries, and much more, in the 'academic borghetto' which developed around the new Queen's University College on the south side of Belfast from the 1840s. These pictures give only a small idea of the wide range and quality of buildings in the area.
We plan to travel by air from Newcastle to Belfast International and the tickets for this need to be booked very soon so please confirm your interest a.s.a.p. If you would like to arrange to travel separately, please let us know and we will not purchase air tickets for you. Please bear in mind that the train journey now involves travelling via Glasgow to Ayr and getting a transfer coach from there to the Cairnryan ferry port.
To reserve places please send the completed form and a deposit of £200 per person to Ian Wells as soon as possible.