The Society was established in the 1970s. It aims to encourage the study and enjoyment of architecture, buildings, their contents and settings by organising lectures and visits. It usually holds its lectures in the Fine Art Lecture Theatre, Newcastle University, Newcastle upon Tyne. and enjoys a close association with the School of Architecture, Planning and Landscape of Newcastle University. (Read our constitution, revised October 2018).
Coach Tour to Northumberland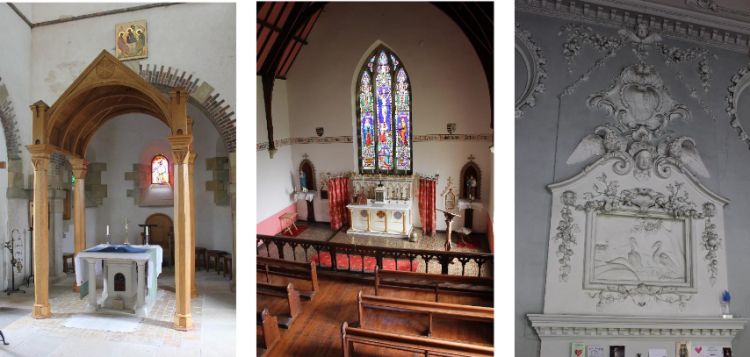 We end the year's program with a visit to three remarkable sites where new works have been grafted onto existing (sometimes ruinous) older structures.
The Hermitage at Shepherds Law has been developed over the last fifty years by Brother Harold Palmer: set within the ruins of what seems to have been an agricultural compound with curious architectural pretensions, the new work includes a range of hermits' cells and a splendid chapel in a timeless Anglo-Romanesque style.
At Biddlestone the Catholic chapel sits atop, and incorporates the structure of, a pele tower or bastle house (Scheduled Ancient Monument) with vaulted ground floor. Originally attached to the very plain barrack-like Biddlestone Hall, this was the private chapel of the Selby family but shared with the local Catholic community, the latter continuing to use it until 1992. It is now owned by the Historic Chapels Trust.
Callaly Castle also incorporates the structure of a Pele or Bastle - maybe even two - and shows several layers of historic development. The exterior of the South Wing was remodelled in 1676 (very probably by Robert Trollope) whilst its drawing room displays a tour de force of decorative plasterwork dating from 1757.
Further details of our coach tour to Northumberland or see the information circulated to members (as a PDF), including a detailed itinerary and booking form to be returned by Friday 27th May at the very latest.
Note: The Zoom address for meetings is sent to members ahead of the meeting. If you do not receive the circular into your inbox, please look in your Junk or Quarantine files in good time before the lecture, and e-mail - we will then be able to send out the Zoom address again.