The Society was established in the 1970s. It aims to encourage the study and enjoyment of architecture, buildings, their contents and settings by organising lectures and visits. It usually holds its lectures in the Fine Art Lecture Theatre, Newcastle University, Newcastle upon Tyne. and enjoys a close association with the School of Architecture, Planning and Landscape of Newcastle University. (Read our constitution).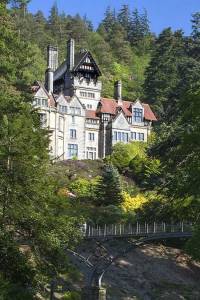 William Armstrong: Romantic Engineer
William Armstrong, Baron Armstrong of Cragside, is best known today as the brains behind Cragside in Northumberland, where he collaborated with Richard Norman Shaw to create 'the place where modern living began'. Armstrong was a hard-headed engineer and businessman, but he also had an intensely romantic side - and this mixture of realism and romance is evident in all the buildings, structures and landscapes closely associated with him.
Our April lecturer, Henrietta Heald, is the author of William Armstrong, Magician of the North.
More details of our April 2017 lecture.
All meetings are held in the Fine Arts Lecture Theatre at Newcastle University, with refreshments available from 7.00, 7.30 for start of lecture. (how to find the venue).
Looking ahead
We now have details of our AGM, which will be on Saturday 6th May in Jesmond Dene - full programme and booking information here; and don't forget our summer trip, to Aberdeen and area over the first weekend in July. Further details and downloadable flyer/ booking form.
Short Talks Evening
In planning for next winter's lecture series, the Committee is considering holding an evening of short talks, when members and others would have an opportunity to share an enthusiasm, mention a research topic or fly an architectural/historical kite, all among friends - and without producing footnotes! Talks would be 10-15 minutes each.
Anyone interested in taking part in such an event is invited to contact Hugh Dixon at ; Or buttonhole him (or any other committee member) at one of our forthcoming lectures and events.
Don't be shy! Come and share what you really feel about Robert Adam, Robert Trollope or...