The Society was established in the 1970s. It aims to encourage the study and enjoyment of architecture, buildings, their contents and settings by organising lectures and visits. It usually holds its lectures in the Fine Art Lecture Theatre, Newcastle University, Newcastle upon Tyne. and enjoys a close association with the School of Architecture, Planning and Landscape of Newcastle University. (Read our constitution, revised October 2018).
Summer Trip to County Down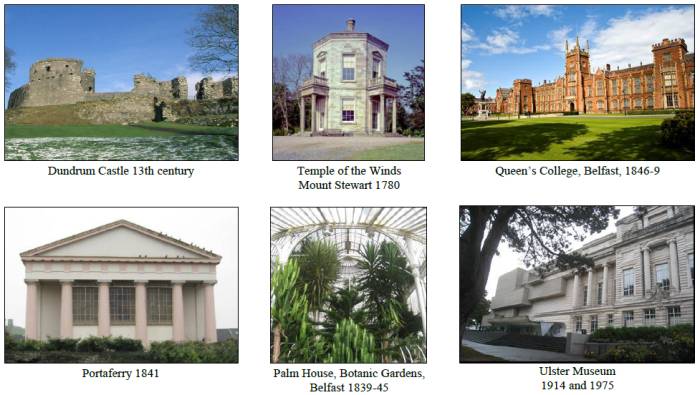 With our summer trip to coastal County Down, we have reached the end of this year's programme. Any additional evening walks or day trips added to the schedule will, of course, be circulated to members and published here.
Buildings of the area reflect a history of Irish tradition resilient to centuries of settlement and fashion change. The tour was guided by our own Hugh Dixon (who spent many years in Northern Ireland as an Architectural Historian, is author of An Introduction to Ulster Architecture and is a member of the Ulster Architectural Heritage Society) and other Ulster Architectural Historians. We will sample the great variety of churches, castles, defensive ports of the Lecale and the Ards, and 'great houses' - the enigmatic Castle Ward, neo-classical Mount Stewart (the other Londonderry house) and a linen Baron's Italianate at Ballywalter.