The Society was established in the 1970s. It aims to encourage the study and enjoyment of architecture, buildings, their contents and settings by organising lectures and visits. It usually holds its lectures in the Fine Art Lecture Theatre, Newcastle University, Newcastle upon Tyne. and enjoys a close association with the School of Architecture, Planning and Landscape of Newcastle University. (Read our constitution).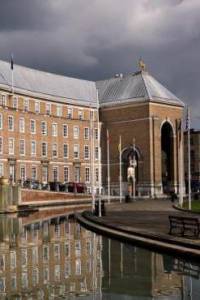 March Meeting
Our March lecturer, Julian Holder, proposes a reappraisal of 'the Georgian' throughout the late 19th and the 20th centuries, and most particularly its relationship to modernism, through discussion of a range of building types, planning and design generally. His contention is that this was not another dying gasp of Revivalism restricted to 1920s Britain, but a complex assertion of national image and identity with its origins before and its influence extending beyond this 'lost' decade, well into the post-WWII period.
Please note that all access is now via the disabled access door on the Kings Road side of the building.
Programme change
There is a change in our April 25th lecture. Tom Brigden has asked for his talk on The Protected Vista to be deferred to the autumn programme: his place has been taken by Juliet Odgers, who will speak on John Evelyn's Sayes Court Garden: A theatre of the sun and moon.
All meetings are held in the Fine Arts Lecture Theatre at Newcastle University, with refreshments available from 7.00, 7.30 for start of lecture. (how to find the venue).
Summer Trip
Our Summer Trip will be to Colchester and Essex, from 6th to 9th July 2018. The details and application form have now been circulated to members. It may seem a long way away, but our trips do tend to book up quickly, so you're advised to fill in the form and send the deposit as soon as you can!