The Society was established in the 1970s. It aims to encourage the study and enjoyment of architecture, buildings, their contents and settings by organising lectures and visits. It usually holds its lectures in the Fine Art Lecture Theatre, Newcastle University, Newcastle upon Tyne. and enjoys a close association with the School of Architecture, Planning and Landscape of Newcastle University. (Read our constitution, revised October 2018).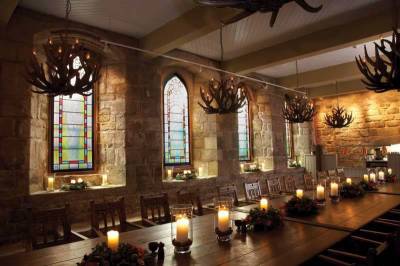 (Post) Christmas party
Our next meeting sees us into next year, since we are ringing the changes with a Post-Christmas party, and this will be held on Wednesday 8 January at the Banquet Hall at Blackfriars Restaurant.
In 1239 the Dominicans arrived in Newcastle-upon-Tyne and settled in what is now called Friars Street, just within the old city walls. Royalty visited the medieval Blackfriars on several occasions, notably in 1334 when King Edward III of England and Edward Balliol of Scotland met there to sign the Treaty of Newcastle. In 1539 the priory was dissolved by Henry VIII.
Members shouldalready have received a flyer with details and a booking form (more information here). Booking closes Friday 3rd January 2020, but you are urged to book early: Numbers are limited to 50.
Full details of our seasonal party here.
January lecture
Our second, more formal, January meeting will consist of a series of short talks by members. So far topics range from the 18th century to our own times, from vernacular to highly formal and to the unexpected. If you have a concise tailpiece to get off your chest, it may not be too late: more information here.
And while you are thinking, another request: aach July we organise a three- or four-day trip to visit architecturally interesting buildings and landscapes. Do you have any ideas for places to visit next year? Could you to help organise a trip? Please contact the committee with any suggestions.
All meetings are held in the Fine Arts Lecture Theatre at Newcastle University, with refreshments available from 7.00, 7.30 for start of lecture. (how to find the venue).
Please note that all access is now via the disabled access door on the Kings Road side of the building.