The Society was established in the 1970s. It aims to encourage the study and enjoyment of architecture, buildings, their contents and settings by organising lectures and visits. It usually holds its lectures in the Fine Art Lecture Theatre, Newcastle University, Newcastle upon Tyne. and enjoys a close association with the School of Architecture, Planning and Landscape of Newcastle University. (Read our constitution, revised October 2018).
Historic Mills in the North of England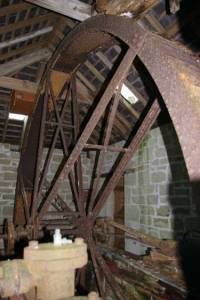 There were once hundreds of watermills across the northern counties of England as well as a lesser number of windmills. Our lecturer, Duncan Hutt, will explore the history and development of water and wind power across the region, concentrating on a few local examples to illustrate the changes that have occurred over centuries of renewable power use.
All meetings are held in the Fine Arts Lecture Theatre at Newcastle University, with refreshments available from 7.00, 7.30 for start of lecture. (how to find the venue).
Please note that all access is now via the disabled access door on the Kings Road side of the building.
We now have advance details of our AGM, to be hels on Saturday 11th May 2019, 11.00 am - 4.30 pm, at Ushaw College, County Durham. To include a lecture and a tour of the College. There will be a flyer in due course, when details are finalised.
Members should already have received details of our Summer Away Days to County Down and South Belfast: the dates for this are Tuesday 2nd July to Friday 5th July. We will be staying in an award-winning, converted linen mill in the countryside near Downpatrick. Buildings to be visited in this 'Pale beyond the Pale' range from the Anglo-Norman castles and towers, mansions and churches, to buildings of the Queen's University of Belfast with Ireland's most modern library. More information here, and booking instructions.