The Society was established in the 1970s. It aims to encourage the study and enjoyment of architecture, buildings, their contents and settings by organising lectures and visits. It usually holds its lectures in the Fine Art Lecture Theatre, Newcastle University, Newcastle upon Tyne. and enjoys a close association with the School of Architecture, Planning and Landscape of Newcastle University. (Read our constitution, revised October 2018).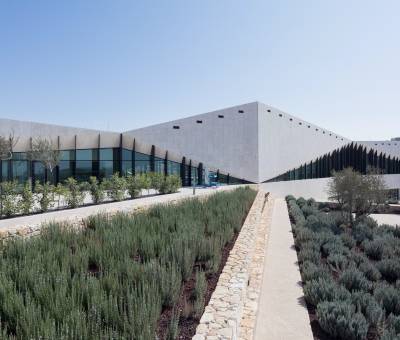 The Palestinian Museum
and other major world-wide projects
Our speaker for March, Roisin Heneghan, and her partner run an architectural practice based in Dublin and Berlin. They have won many of the most exacting international architectural competitions of the last two decades. Their first competition win was for the museum at the Giza Pyramids in 2003. This enormous project is due to be completed in 2020. Closer to home the Giant's Causeway Visitors Centre was completed recently. In Moscow they have developed a design for a National Centre for Contemporary Arts. In Miami they are short listed for the National Pulse Memorial & Museum competition.
Full details of the meeting are here.
Please note that our March lecture will not be in our usual venue, but in the larger Lecture Theatre 1 (LT1) in the Herschel Building.