The Society was established in the 1970s. It aims to encourage the study and enjoyment of architecture, buildings, their contents and settings by organising lectures and visits. It usually holds its lectures in the Fine Art Lecture Theatre, Newcastle University, Newcastle upon Tyne. and enjoys a close association with the School of Architecture, Planning and Landscape of Newcastle University. (Read our constitution).
Christmas Event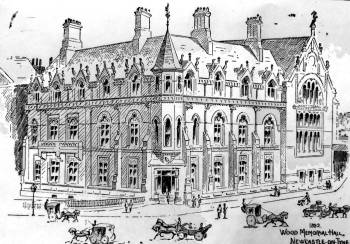 The next event on our calendar is our Christmas Party, on Tusday 12th December at one of the finest buildings in Newcastle, the Mining Institute's Neville Hall, a Victorian building from the time when high-Gothic architecture was coming into fashion. The evening will take the usual format of talk and tour, and a buffet followed by an art and architecture quiz, presented by Tom Yellowley.
Booking is now closed; more information about our Christmas Event here.