Pre-Christmas Event at Trinity House
Broad Chare, Newcastle-upon-Tyne
Tuesday 5th December 2023, 6.00 pm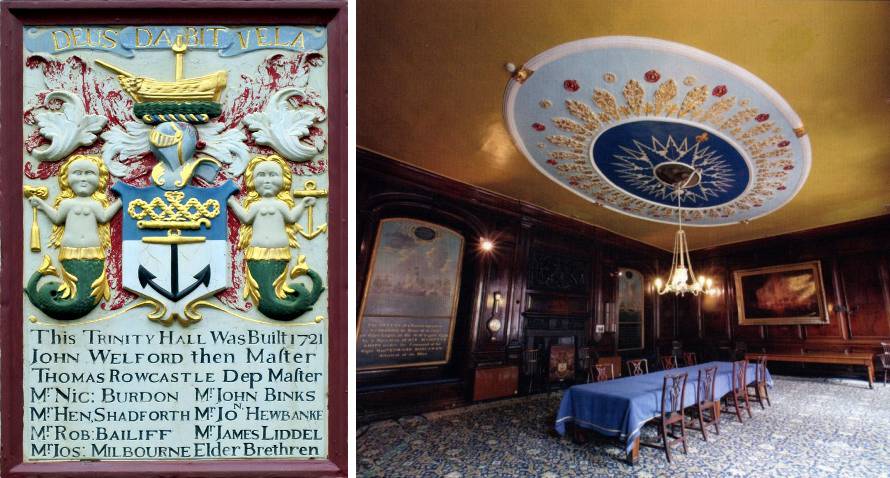 Our pre-Christmas event this year will be held in the multi-layered historical context of Trinity House, Newcastle. Even those of us who have visited this complex before will undoubtedly learn something new about the buildings and their contents as we are shown around in specialist guided tours.
These will be followed by a seasonal buffet, provided by Boldon Farmhouse Pantry (who also catered our AGM back in May). This will be in the Banqueting Hall, accompanied by mulled wine (sober alternatives available).
The evening will be rounded off with a short but no doubt humiliating art and architecture quiz devised by one of our committee members.
Ticket price includes tour, seasonal buffet and drink.
The event is expected to finish at around 9:30 pm. Foregather in the Foyer at 6:00 pm. Tickets: £29.00 all-in.
Booking closed on Tuesday 28th November 2023: view the booking form circulated to members (as pdf).
Travel: Newcastle Central Station (main line trains and Metro) is within walking distance, as is Manors Metro station.
Parking: The nearby Quayside Multi-Storey (accessible from the Quayside via Broad Chare and Pandon) is free from 5:00 p.m.
Access to Trinity House: Through an archway off the west side towards the north end of Broad Chare. This leads to the central courtyard where the main entrance is up the flight of steps on the south side. Please note that the complex includes these and several other changes of level with no stairlifts or ramps, but muscle-bound members will assist.