Annual General Meeting 2021
Saturday 25 September 2021
Bede Tower, Burdon Road, Sunderland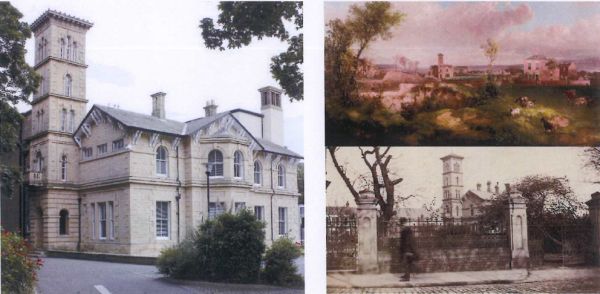 PROGRAMME
Attendance at the AGM and for the talks is free of charge. Optional refreshments £9.00
11.00 am: Foregather in The Refectory (tea/coffee/biscuits for those who have paid for refreshments).
11.30 am: Talk in the Meeting Room (free) Speaker: Dr. Michael Johnson.
12.30 pm: Buffet lunch in The Refectory (for those who have paid for refreshments)
1.30 pm: AGM in the Meeting Room (free)
2.00 - 4.00 pm. approx: Walking tour of architectural highlights in the vicinity of the venue (free)
Led by Dr. Michael Johnson.
Bede Tower was built in 1851 for Anthony John Moore - solicitor, chairman of the gas company and Mayor of Sunderland 1854-5. Moore also developed parts of the surrounding area employing G. Andrew Middlemiss as his architect. For Bede Tower Middlemiss derived its Italianate architectural style from Queen Victoria's Osborne House on the Isle of Wight (built 1845-51).
The painting above right, dating from around 1854, shows the original house in its grounds surrounded by virgin countryside. The photograph beneath dates from around 1890 by which time the house had become a boys' school. Then in the First World War it served as a convalescent home for wounded soldiers. It passed through the hands of various institutions through the first half of the 20th century before being bought by Sunderland Polytechnic in the 1960's. The rather brutal additions of Theatre, Gymnasium, Refectory, etc., date from that ownership. Sunderland High School then purchased the complex along with the terrace of houses running at right angles to its frontage and used them for a while before they were purchased by the Vardy Foundation for Bethany City Church, who are our hosts for this event.
Getting there: see PDF for map which shows nearby Metro, bus and railway stations (all within 10 minutes' walk).
If coming by car note the arrows on the map indicating a one-way system on the approach roads. The entrance (pictured beside the map) is not immediately obvious from a distance so approach slowly up Burdon Road. If using SatNav set it to SR2 7DZ (this is not the postal address).
Note: Entrance to the building is through the modern wing to the right of the original house as seen from the car park.
Flyer circulated to members with details of AGM and information about Bede Tower.