Preservation and Transformation at Dumfries House
Wednesday 12 October 2016
Simon Green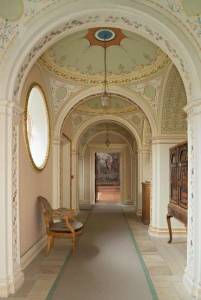 How the Butes both respected and adapted Dumfries House,
Robert Adam's first country house, 1803-1993.
A detailed survey by the RCAHMS was prompted by the proposed sale of Dumfries House. The wealth of material held at Mount Stuart suggested there was a story that needed telling.
It transpired that not only was this a major work by Robert Adam but it had been altered by, among others, the 3rd Marquess of Bute. He is perhaps more famous for his transformation of Cardiff Castle but here he undertook a massive and surprisingly sensitive building campaign with Robert Weir Schultz. The talk focussed on how the house has been transformed by the Bute family whilst preserving its Georgian spirit.
Simon Green is the President of the Architectural Heritage Society of Scotland. His work with Historic Environment Scotland involves examining, investigating and recording buildings throughout Scotland.