2014 AGM
Saturday 10th May 2014
Held at Mitford Hall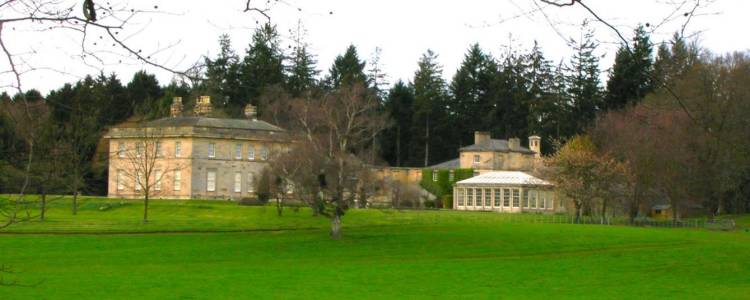 ANNUAL GENERAL MEETING
Held at MITFORD HALL
Mitford, Morpeth, Northumberland, NE61 3PX
By kind Permission of Bruce Shepherd and Family
Guided by Cyril Winskell MBE Conservation Architect
PROGRAMME: 2.00pm Arrival and 'Talk & Tour' of the building. 3.00pm AGM business. 4.00pm Afternoon tea. 5.00pm Depart.
Attendance at the AGM is free of charge. Tickets for the optional refreshments £8.00.
Prior to the Norman Conquest this land was owned by Sir John of Mitford whose name was derived from the site's location between two fords over the rivers Font and Wansbeck. In 1138 a stone-built castle replaced the original timber defences. The Old Manor House is believed to be largely of C16 date. The Hall, designed by John Dobson in 1823, was built in 1828 for Bertrand Osbaldeston Mitford. This was one of Dobson's first family houses. The villa is grouped with a stable block and conservatory. The Shepherd family purchased the Estate from the Mitford family in 1993 and a large scale programme of restoration and modernisation has been in progress throughout the Estate ever since.
Car parking available in the grounds of the building.
Members should have received a booking form in the post or by e-mail; or you can download the booking form as a PDF document here.
For further information, please call 0191 265 6391 evenings or e-mail: .