Day trip to Lindisfarne Castle
Saturday 9th June 2018
9.50 am before the tide closes the causeway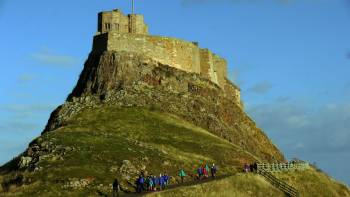 Lindisfarne castle has recently reopened after a conservation programme lasting 18 months. (Lindisfarne Castle on the National Trust website)
To allow repairs to be apparent and to let plaster dry, the castle is not yet furnished. This gives visitors a rare opportunity to see the interior in a raw state but also to view an installation by Anya Gallaccio, the Turner Prize nominated artist, whose beautifully crafted work is inspired partly by Gertrude Jekyll's plantings in the castle garden.
The intention is to get onto the island by 9.50 am before the tide closes the causeway, to see the castle when least crowded (NT members free. Group rate for non-members £6.50 payable on the day). Please note that it takes 1 hour 20 minutes to drive from Newcastle upon Tyne to Lindisfarne. There will an opportunity to see other buildings on the island. The causeway will be open again by about 2.00 pm.
We ask the members who plan to travel in their own cars - please offer lifts.
We will meet at the village car park (parking charges apply) at about 10.00 am and walk to the castle (about 15-20 minutes). There is a shuttle bus from the village to the castle field gate (£2.50 return).
While some may prefer to bring a picnic, there are many opportunities for fodder and watering on the island - ranging from fairly haute cuisine to crab sandwiches.
Please return the booking form available as a downloadable PDF and previously circulated to members by Saturday 19th May at the latest.